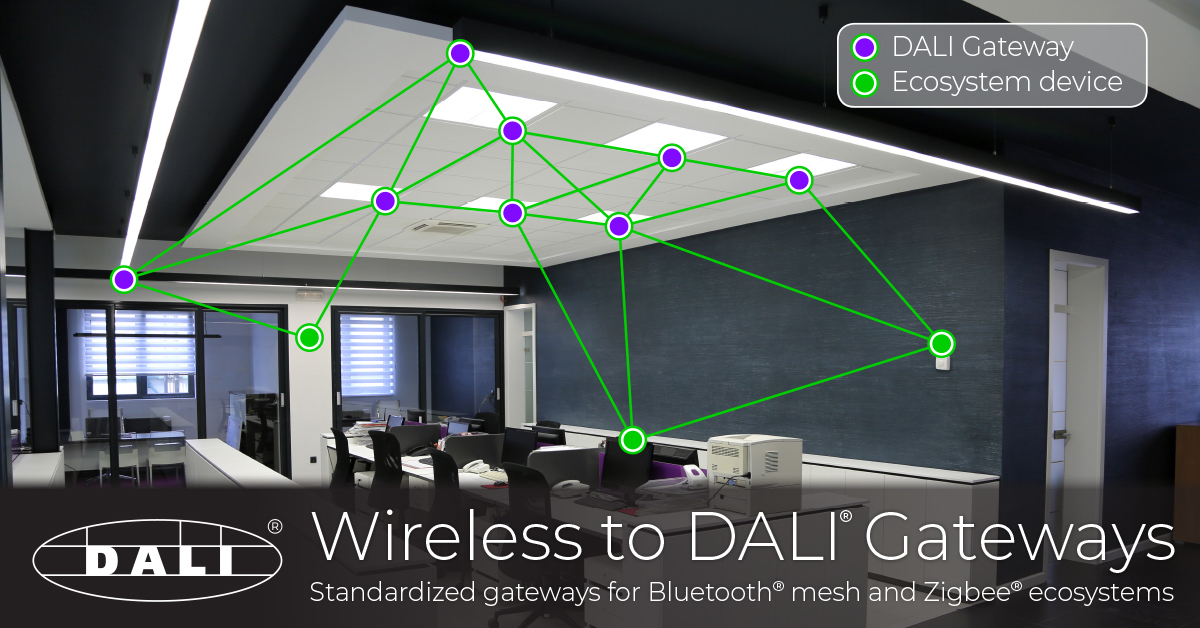 In line with its new Wireless to DALI Gateway specification, the DALI Alliance will add to its DALI-2 certification program and enable interoperability testing of such wireless gateways.
———————————————————————————————————————————————————————————————————————
Interoperability in connectivity implementations has been among the biggest roadblocks to wider deployment of smart and connected solid-state lighting (SSL). Now the DALI Alliance (also known as the DiiA or Digital Illumination Interface Alliance) has delivered on its promise to specify standard Wireless to DALI Gateways that will enable seamless integration of network nodes based on either wired DALI (Digital Addressable Lighting Interface) connections or wireless Bluetooth mesh or Zigbee mesh connections. The gateway specifications will free product developers from supporting multiple interface options in a new luminaire or sensor, and will give designers and specifiers far more freedom in deploying connectivity throughout a space.
We've run countless articles both championing the potential benefits of connected lighting and discussing obstacles including primarily a fractured landscape of wired and wireless connectivity options will little interoperability evident. A number of companies have attempted to address the situation. For example, Tridonic has announced a layered approach to product development for outdoor lighting called Siderea that starts with DALI-2-based drivers and allows the layering of standard or proprietary network protocols.
Ironically, DALI was until recently essentially a wired competitor to wireless options such Buletooth and Zigbee. The original DALI technology linked luminaires and sensors to a central control system in a space. But the transition of the DALI specification to the DiiA organization back in 2017 set a movement afoot to remake DALI. The result has been first DALI-2 — a more robust wired networking option that can connect luminaires. And then the underlying communications interface in DALI-2 was used to create the D4i interface for use inside of luminaires, or what's called intra-luminaire, to connect an LED driver with sensor/controller/connectivity modules. Meanwhile, a unified DALI protocol and command and data structure is common throughout.
In the gateway development, the DALI Alliance has published two specifications. Part 341 covers Bluetooth mesh to DALI Gateways. Part 342 covers Zigbee to DALI Gateways. Zigbee was a first mover in wireless options for SSL connectivity, and can scale to huge networks. Bluetooth mesh has gained significant support in the past two years with proponents claiming it is simpler to deploy and commission and that it doesn't require dedicated servers of gateways in a system to extend range. Both of the new specifications will be transferred to the IEC for incorporation into the IEC 623866 standard.
There are two primary scenarios where the DALI Gateway concept might be deployed. You could have a network of DALI luminaires and devices in a space such as, say, a large room in a commercial building. A wireless network could use the gateway functionality to link that DALI island back to a building control system or to the cloud.
Or you might have a room or building full of luminaires, perhaps with integrated sensors, that each uses D4i and that each has the gateway implemented in the luminaire. The D4i provides the intra-luminaire communications while the wireless system provides the inter-luminaire connectivity throughout the building.
"The standardized gateway between DALI lighting products and Bluetooth mesh lighting control networks will further accelerate the adoption of advanced IoT-enabled intelligent lighting systems," said Mark Powell, CEO of the Bluetooth SIG. "Providing valuable energy efficiencies and a more comfortable and productive experience for occupants, these sensor-rich lighting systems will also enable more efficient operation of other building systems, including HVAC and security."
For the DALI organization, the gateways make it a more relevant participant in what's increasingly a wireless world in terms of connectivity. "Publishing the specifications for Wireless to DALI Gateways is a major milestone that signals our intention to allow DALI to operate within wireless networks when the need arises," said Paul Drosihn, general manager of the DALI Alliance. "The move extends choice, convenience, and creative possibilities to the user base of DALI wired systems and to those implementing new wired and wireless lighting control systems."
The DALI Alliance will also add to its DALI-2 certification program and enable interoperability testing of the wireless gateways. The alliance began certification testing after the DALI-2 development in 2017. Just less than one year ago the organization said it had certified 1000 products. The certification testing is intended to ensure interoperability between products from different vendors and going forward that will include gateway implementations.
---
Post time: Jul-09-2021