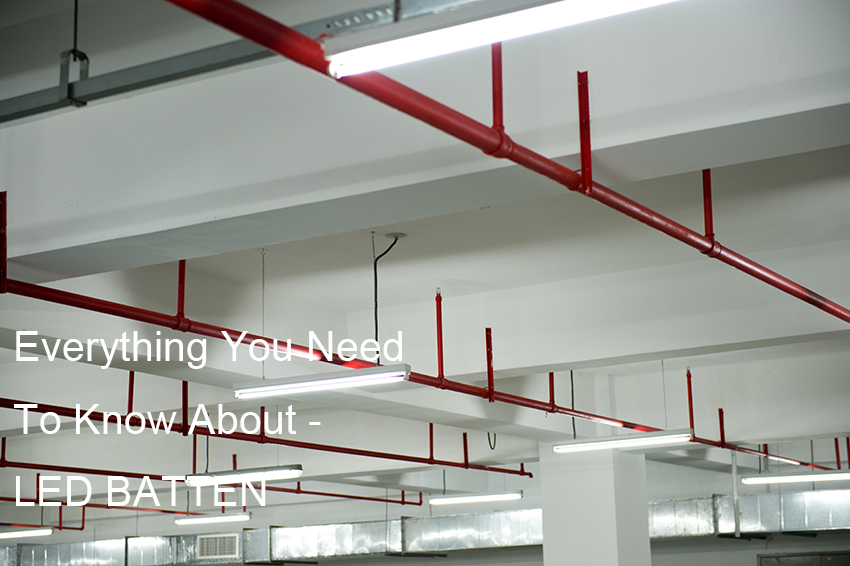 LED batten light is an ideal replacement for traditional fluorescent tubes, which can replace bulbs and accessories together. Suitable for illuminating public areas, such as parking lots, stations and toilets, as well as family areas, garages or utility rooms. Compared with halogen or fluorescent lamps, LED technology improves energy efficiency by 90%. LED batten light fitting has a long life-span and low maintenance cost.
LED battens have come along way in the last few years with the technology of LED, now batten lights have loads of different options as oppose to every batten being 2 x 36 fluorescent battens. LED battens now are much more streamlined with a slim and minimalist look but yet still put out the same brightness, this is great because 4 foot fluorescent battens are a real eye saw but now with LED battens they caN manipulate the fittings to give a much cleaner and less commercial look. The best thing about battens is they are super practical with a real bright light and wide beam angles. When buying your LED battens there are a few considerations to make.
IP Rating - The IP rated refers to the light being suitable for indoor or outdoor. If your application is outdoors then go with IP65, this is a high rating which will protect from water and dust. If you are buying for indoor you can still go with a IP65 as it will still protect from dust and physical impacts, otherwise an IP20 is fine as well with most batten still sealed.
LED - There are still loads of fluorescent batten and tubes out there with people still replacing the tubes and ballasts, this is a bad idea as you can now buy for T8 LED direct replacement tubes. LED tubes use 50% less power and last 5 times longer than fluorescent tubes, LED tubes also now perform better in brightness and imitate a fluorescent tube without you knowing the difference. So always go with LED for all these reasons. LED tubes are also much safer and better for the environment with fluorescent tubes containing mercury.
Integrated LED or LED Tubes - Most LED battens sold today are integrated which means once the light batten dies basically throw it out which isn't ideal as you will need to replace and get an electrician to come back and replace, this can cost around $200 with the call out fee. When a manufacturer makes something integrated they can make it better with heat sinks and pushing up the performance as there is only so much technology you can fit into a tube. 
Size - Battens come in many sizes such as 2 foot, 4 foot , 5 foot and 6 foot, always try and go with a 4 foot as this is the most common batten sold so it will be much easier and cheaper to replace as they are mass produced.
Ok so now you have all the information to use and buy your next LED batten online today, now I will run through my best selling batten lines. 
This LED batten has been a trusted seller now for around 3 years, our customers love this product because it's quick-connect plug with IP65 rating but can be taken off and hardwired. We have sold 1000's of these LED battens each month in all kinds of applications and have never had one returned, they are heavy duty and so practical with the bright 40W power, putting out 4800 lumens.
This LED batten is our favourite integrated model, this batten is extremely high quality but still at a good price of around the $14 mark. Compact design with Tridonic and Osram driver, cost-efficient, Emergency, DALI, Sensor functions available, and puts out an impressive 28W/38W which is 3360/4560 lumens. This light suits every application whether it be a commercial or residential, this batten light will do the job.
This LED batten is our customers favourite in store on our batten display this is the one they first lean towards, this is down to it's high quality finish and how it's nicely diffused to not look obtrusive. This is an IP20, so mostly installed indoors, the bolt LED batten also has the option to use 20w or 40w by flicking the switch inside the fitting.
---
Post time: Aug-25-2020