LED tri-proof light usually used in the environment which requires water-proof, dust-proof and corrosion-proof lighting, and it is widely used in the parking lot, food factory, dust factory, cold storage, station, and other indoor places. LED tri-proof light can be ceiling mounted and suspension mounted. The lamp adopt PC or aluminum with PC as an eco-friendly material, and it can work stably in a different environment, the lamp adopt LEDs of high lumen effect up to 150LM/W, and it can save energy 70% above, built-in sensor and built-in emergency pack, beautiful appearance, convenient to install, suitable for different applications, equipped with OSRAM, Tridonic and BOKE power supply, lifespan up to 50,000 hours.
The common LED tri proof lights on the market are full plastic tri-roof light and aluminum+PC triproof light.
Below we will introduce the advantages and disadvantages of plastic tri-proof LED and aluminum+PC tri proof light.
PC Plastic LED Tri-proof Light
Advantages of full plastic tri proof LED:
Excellent waterproof and dustproof performance, good corrosion resistance, low cost, low temperature inside the lamp.
IP65 and IP66 rating available.
Disadvantages of full plastic tri proof led:
Low heat dissipation performance, the temperature of the led chip will be high for a long time, it will be not good for luminaires.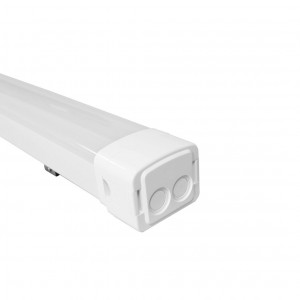 AL+PC Triproof LED Light
Advantages of aluminum plastic tri proof led:
Good heat dissipation performance, easy installation, easily and well export the inside temperature of the lamp when it is working, and extend the lifespan of lamp.

Disadvantages of aluminum plastic tri proof LED:
The high cost of use and maintenance.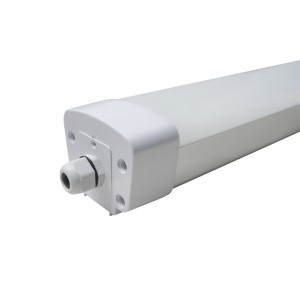 ---
Post time: Sep-16-2020