According to TrendForce's latest report "2021 Global Lighting LED and LED Lighting Market Outlook-2H21", the LED general lighting market has comprehensively recovered with increasing demand for niche lighting, leading to growth in global markets of LED general lighting, horticultural lighting, and smart lighting in 2021–2022 to different extents.

A Remarkable Recovery in the General Lighting Market
As vaccination coverage increases in various countries, economies worldwide begin to recuperate. Since 1Q21, the LED general lighting market has witnessed a strong recovery. TrendForce estimates that the global LED lighting market size will reach USD 38.199 billion in 2021 with a YoY growth rate of 9.5%.
The following four factors have made the general lighting market thrive:
1. With increasing vaccination rates worldwide, economic recoveries have emerged; Recoveries in the commercial, outdoor, and engineering lighting markets are particularly fast.
2. Rising prices of LED lighting products: As raw material costs rising, lighting brands businesses continue raising product prices by 3%–15%.
3. Along with governments' energy conservation and carbon reduction policies targeting carbon neutrality, LED-based energy conservation projects have kicked off, thereby stimulating growth in LED lighting penetration. As TrendForce indicates, market penetration of LED lighting will reach 57% in 2021.
4. The pandemic has prompted LED lighting companies to shift to produce lighting fixtures with digitalized smart dimming and controllable functions. In the future, the lighting sector will focus more on product value added by the systemization of connected lighting and human centric lighting (HCL).
A Promising Future for the Horticultural Lighting Market
TrendForce's latest research shows that the global LED horticultural lighting market rocketed by 49% in 2020 with the market size hitting USD 1.3 billion. The market size is projected to top USD 4.7 billion by 2025 with a CAGR of 30% between 2020 and 2025. Two factors are expected to drive such substantial growth:
1.     Because of policy incentives, LED horticultural lighting in North America has expanded to recreational and medical cannabis markets.
2.     An increase in the frequency of extreme weather events and the COVID-19 pandemic have highlighted the importance of food safety for consumers and localization of produce supply chains, which then stimulate food growers' demand for cultivating crops like leaf vegetables, strawberries, and tomatoes.
Figure. Percentages of horticultural lighting demand in Americas, EMEA, and APAC 2021–2023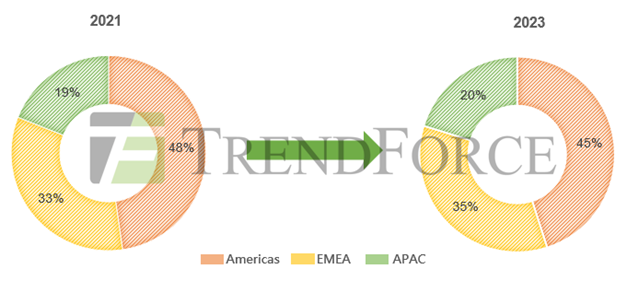 Globally, Americas and EMEA will be the top markets of horticultural lighting; the two regions will add up to 81% of global demand in 2021.
Americas: During the pandemic, marijuana legalization has been accelerated in North America, thereby boosting demand for horticultural lighting products. In coming years, horticultural lighting markets in Americas are expected to expand rapidly.
EMEA: European countries including the Netherlands and UK are striving to promote the construction of plant factories with relevant subsidies, which has thus motivated agricultural companies to establish plant factories in Europe, leading to increased demand for horticultural lighting. Additionally, countries across Middle East (typically represented by Israel and Turkey) and Africa (South Africa being the most representative)—where climate change is getting worse—are increasing investments in facility agriculture to enhance domestic agricultural production.
APAC: In response to the COVID-19 pandemic and increasing demand for local food, plant factories in Japan have regained the public's attention and focused on growing leaf vegetables, strawberries, grapes, and other high-value cash crops. Plant factories in China and South Korea have turned to grow valuable Chinese herbs and ginseng to improve the cost-effectiveness of produce.
Constant Growth in the Penetration of Smart Streetlights
To overcome economic turmoil, governments worldwide have expanded infrastructure construction projects, including those in North America and China. Particularly, road construction is the most heavily invested. Further, penetration rates of smart streetlights have risen as well as of the price increases. Accordingly, TrendForce forecasts that the smart streetlight market will expand by 18% in 2021 with a 2020–2025 CAGR of 14.7%, which is higher than the overall average of general lighting market.
Finally, despite uncertainties over global economic effects of COVID-19, numerous lighting manufacturers managed to create healthier, smarter, and more convenient lighting experiences using professional solutions that combine lighting products with digital systems. These companies have thus witnessed steady growth in their revenue. Revenue in lighting companies is projected to increase by 5%–10% in 2021.
---
Post time: Nov-06-2021